The Yellowstone County DUI Task Force is a group of diverse individuals including members of law enforcement, prosecutors, educators, prevention specialists, counselors, and area business representatives appointed by the County Commissioners with the mission of promoting a healthier and safer environment for county residents by attempting to reduce the number of alcohol-related incidents through public education, awareness, legislation, and enforcement strategies.
---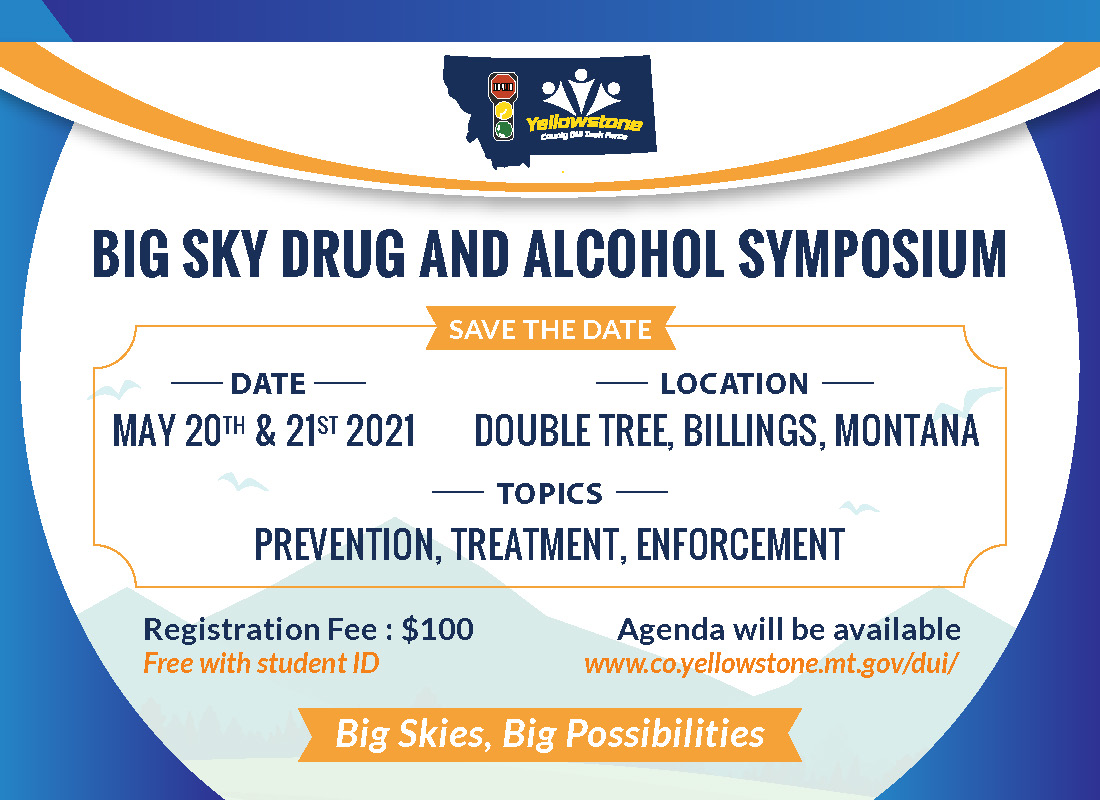 Join us for for the Big Sky Drug and Alcohol Symposium (Big Skies, Big Possibilities). A two-day conference featuring local, regional and national experts in fields related to prevention, treatment, and enforcement.

When: May 20th & 21th 2021
Where: Double Tree Hotel in Billings, Montana
Schedule: Schedule
Speakers: Speakers
Get More Info & Tickets: Here
---
Meeting Information/Documents
The task force meets on the 3rd Thursday of every month (except December). Meetings are held in the Commissioner's Conference Room on the 3rd floor of theStillwater Building (former Federal Building) in Room 3107 . (316 North 26th Street, Billings, MT 59101) Meetings begin at noon.
---
Documents for May 2022
Organizations Represented on the DUI Task Force
Billings Police Department
Better Times Recovery Services, LLC
Crowley Fleck, PLLP
Laurel Police Department
Montana Crime Prevention Association
Montana Highway Patrol
Montana State University Billings
Rimrock Foundation
Southcentral Mental Health Center-Addiction Services
Yellowstone County Attorney's Office
Yellowstone County Sheriff's Office
Willson LLC